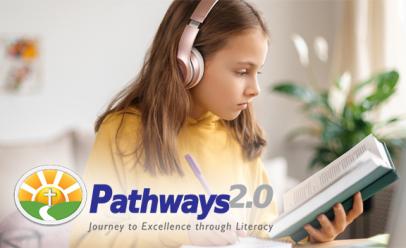 By: Kendall Hunt RPD with contributions from the editorial team of Pathways2.0

"The more you read, the more things that you'll know. The more that you learn, the more places you'll go." —Dr. Seuss
One of my favorite memories from my childhood is my dad reading to me. Every night, I would get so excited to choose a different book for him to read aloud. We started with really easy ones: If You Give a Mouse a Cookie, The Very Hungry Caterpillar, and Green Eggs and Ham. As I grew older, we upgraded to small chapter books, such as books in the Magic Tree House, Jigsaw Jones, and Nancy Drew series. After we finished reading the first book in the Harry Potter series together, I was old enough to finally read on my own. At first, I hated reading independently. It wasn't the same. It wasn't until I started to really dive into reading that I fell back in love with it. As a writer today, I owe a lot of my success to my childhood. Now, I wouldn't say If You Give a Mouse a Cookie is the reason I'm a reader today. In actuality, it was all the books I read on my own! I became a real book-lover when I started to truly understand and ask questions about the material in front of me.
Likewise, Pathways2.0 pushes students to truly comprehend the literature in front of them. The program teaches students specific strategies that they can apply to their own reading. When it comes to improving students' reading comprehension level, Pathways2.0 has many suggestions and strategies you can utilize in your own classroom:
1. Small-Group Guided Reading
Improving students' reading comprehension is a hard task, so you must first start small. A good place to start is guided reading in small groups. Breaking the kids up into these groups gives all types of students a chance to speak up. With guided questions about the reading, students can learn from one another. In the end, you can bring it all back together for one large-group discussion.
2. Daily Shared Reading
Another great way to improve reading comprehension is to have daily shared readings. Students can share a little synopsis or something they found interesting from a book they are currently reading. Daily shared reading encourages independent reading and keeps the students thinking about the plots of their books.
3. Mini-lessons
Students often learn best from examples. If you have small lessons on comprehension every once in a while, it will give students the chance to pick up on the strategies you present. Start with sample readings and explain how you would approach answering the sample questions. The goal is to have them apply these strategies to their own reading.
4. Lexile Numbers
Pathways2.0 adopted Lexile measurements to pinpoint a numerical value for the complexity of a certain text. Each grade level is assigned a certain Lexile Band that each assigned reading must fall under. This way, the higher the grade level, the more students are pushed to read harder and more complex books. Their reading comprehension will only improve as they progress.
5. Read Aloud
Whether it is through "popcorn reading" or selecting students to participate, reading aloud is very beneficial. Not only does it foster classroom participation, but it can be a good teaching tool. Reading aloud as a class is the perfect platform for you to ask questions and test reading comprehension.
6. Anchor Texts and Paired Texts
Pathways2.0 uses Anchor Texts that correspond to the unit. Each Anchor Text pushes students with its complexity, vocabulary, and content. In addition to Anchor Texts, you may also use Paired Texts to extend the content. These texts complement Anchor Texts by highlighting unit topics in a new way.
7. Independent Reading
As mentioned earlier, independent reading is a great way to build students' reading comprehension. You can dedicate some time during the school day to let students read quietly. Or, when they finish their work, always give them the option to sit at their desks and read independently.
8. Individual Reflection
To help ensure that students get the best outcomes from their independent reading, you can pair it with a required journal. In this notebook, students respond to teacher-created questions that urge them to think deeply about their own reading.
9. Assessments
The best way to measure your students' reading comprehension level is to test them. Assessment scores give you an idea of where your students are and how far they have come. In addition, these comprehension assessments are also a good teaching tool.
10. "Library Time"
If your school has its own library, take time each week to visit it with your students. "Library Time" is quiet time where students can browse, check out books, and most importantly, read on their own. Taking time out of the usual school day to visit the library emphasizes the importance of reading. Also, if students have no other way to get new books or no time during the day, it is a great opportunity for them and encourages independent reading.
Sometimes, students are their best teachers, and what better way to learn than to read! Once reading encourages students to be curious, creative, and imaginative, their love for books will follow. Comprehensive reading will open so many doors for them. Follow these tips and push your students to become future book-lovers!