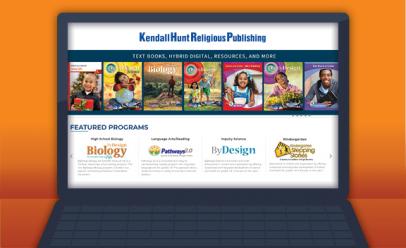 By: Kendall Hunt RPD with contributions from the editorial team

To say it has been "quite the year" would be an understatement.
From the COVID-19 pandemic to the movements for racial justice and the turmoil of the election, the country has dealt with issues of an unprecedented magnitude during the last year. The field of education has had its own challenges, most notably a sudden pivot to remote and virtual learning.
So perhaps it's no surprise that it's been a busy year here at Kendall Hunt Religious Publishing Division (RPD). Here's a quick look back at some of our biggest projects of 2020 and our new directions as we launch into the new year.
Digital Curricula
In the spring, as COVID-19 forced educators to move online, Kendall Hunt RPD knew we needed to adapt as well, to ensure our teachers had access to the materials they needed. Although most of our customized programs were already prepped for online success, we focused our efforts this year on making sure that our curricula were available when and where educators needed them.
Now, all purchases of both Teacher and Student Edition print books for ByDesign Science automatically include a five-year-licensed eBook version. The eBook can also be purchased separately for schools in an all-virtual educational model. Even the Student Science Journals are now available digitally, and the program now features additional online labs for ease of remote learning.
Pathways2.0 also features online teacher resources for each Daily Lesson Guide (DLG), as well as a print and eBook version of the Teacher Manual. Plus, during the spring, Kendall Hunt RPD offered free 60-day online access to two additional grade-level DLG teacher resource sets, including blackline masters and printables, for all schools utilizing Pathways2.0.
Furthermore, all four components of the new ByDesign Biology curriculum—Student Edition, Teacher Edition, and Student and Teacher Lab Resources—are available through the online platform Flourish. The Student Edition is even available as a hybrid edition (print and eBook, with a six-year license).
All these digital resources, whether they were new this year or not, became more important than ever once the pandemic hit. Kendall Hunt RPD was proud to be able to offer educators the tools they needed for online educational success during this difficult time!
ByDesign Biology
Kendall Hunt RPD was also proud to launch our brand-new faith-based high school biology curriculum, ByDesign Biology. After years of collaboration between the publishing experts at Kendall Hunt and the team at the Seventh-day Adventist (SDA) North American Division (NAD) Office of Education, the program rolled out into classrooms this fall.
The more-than-700-page textbook is full of quality, research-backed scientific information written and developed by the Kendall Hunt RPD team and contributing writers who are mostly PhDs in their fields. Plus, its faith-based structure and presentation of both creationism and evolutionism make it a valuable option for Christian educators of all denominations, especially in schools where younger students have thrived using our customized ByDesign Science textbook series for grades 1–8.
"I don't think there's really a quality balanced textbook right now on the market that's creation based," said Larry Blackmer, former vice president of the NAD Office of Education and the executive editor of ByDesign Biology. "This is a revolutionary and timely textbook that . . . explores not only the flaws in the evolutionary worldview but also the challenges of the creation worldview."
ByDesign Biology is already being used in over 20 classrooms across the country—contact us today for information on how to bring ByDesign Biology into your educational setting!
Looking Ahead
We also spent the end of our year gathering feedback to help us meet the needs of teachers using Kindergarten Stepping Stones and ByDesign Science. Both programs were unveiled more than five years ago (in gradual rollouts between 2012 and 2015), and we are eager to update and enhance them for the new educational market that requires more digital resources for hybrid education!
While 2020 has been a wild ride, as we reflect on the year, it's also been a time of growth and progress here at Kendall Hunt RPD. We hope that you, too, can find the silver lining in this challenging year and join us now as we look ahead to 2021!