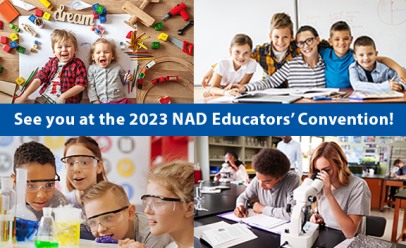 By: Kendall Hunt RPD with contributions from the editorial team

Kendall Hunt is a proud platinum sponsor of the 2023 Educators' Convention. We cannot wait to talk face-to-face with teachers and educators to learn more about their experiences using their customized faith-based programs and what we could do or help to provide in order to make their 2023-2024 school year the best it can be!
"Kendall Hunt has long enjoyed working with the NAD Office of Education and look forward to continuing to provide the right resources for teachers and students alike" says K-12 Vice President Charley Cook.
Follow along with us to preview what you can expect to find in Phoenix this August!
Kindergarten Stepping Stones:
Kindergarten Stepping Stones recognizes young ones are created in God's image and must be nurture to think, learn, choose, and grow. It allows all children to develop their faith journey while supporting individual differences in developmental stages, abilities, and interests.
Pathways2.0 Reading and Language Arts:
The Pathways2.0 Reading and Language Arts program provides easy-to-use instruction in "cherishing the meaning of knowledge" through reading, writing, listening, and speaking.
ByDesign Science:
ByDesign Science is a faith-based inquiry science curriculum for grades 1-8. Designed to nurture a child's natural curiosities as they explore the scientific wonderment of God's creation through the lens of the Bible. Built on a foundational five step instructional model, students develop a passion for knowledge and discovery.
ByDesign Biology:
Building on the success of ByDesign Science, Kendall Hunt and the NAD Office of Education wanted to provide resources for high school students and continue to support them on their journey toward "Something Better" in their education. This program considers two popular worldviews materialistic Darwinism and biblical theism, to provide a framework of understand reality, especially biology.
For over 20 years, Kendall Hunts Religious Publishing Division has had the privilege of collaborating with the NAD Office of Education in creating and fulfilling the dream of creating custom curriculum solutions that reflect the core beliefs of the Adventist school system.
That dream is still alive! In all that we do, Kendall Hunt Publishing strives to be more than just a publishing company, but "Something Better" on your Journey to Excellence through Education.
Welcome to the 2023 Educators' Convention! The Place Where Dreams Do Come True!