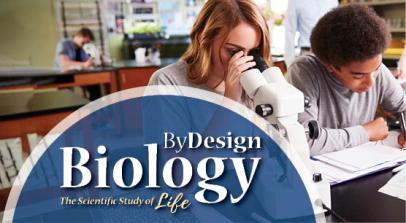 By: Kendall Hunt RPD with contributions from the writing team of ByDesign Biology

Kendall Hunt PreK–12 Religious Publishing is excited to have collaborated with the Seventh-day Adventist (SDA) North American Division (NAD) Office of Education on a brand-new Christian-based high school biology curriculum, ByDesign Biology! The new program is being rolled out and implemented in classrooms for the fall of 2020. Here are just a few of the exciting features of our innovative, customized curriculum, with input from our program writers and contributors at the NAD!
Biology through the lens of the Bible
Parents and educators seeking a science textbook that aligns with their school's key beliefs—a textbook that doesn't need modifications for the faith-based educational setting—can feel confident that ByDesign Biology meets that goal while delivering high-level, up-to-date scientific information. Contributing writer and reviewer David Pennington described the customized program as "a unique textbook that acknowledges the contributions of both science and faith-based understandings of the origins and complexity of life."
ByDesign Biology presents the two contrasting worldviews of material Darwinism and biblical creationism, allowing students to learn the history and merits of each approach to the understanding of life on Earth. Scripture Spotlights show students the connections between unit topics and the Word of God in the Bible, and explicit biblical connections (e.g., the Great Flood as an example of a population bottleneck) also help students use their faith to understand what they learn.
"[This is] a condensed biology text that meets national standards, [is] well illustrated, and deals with material in a Christian worldview in a discipline that is usually dominated by Darwinism," said contributing writer and reviewer Gordon Atkins.
Foundational, credible scientific information
The book's 27 chapters cover a wide range of essential biology topics, giving teachers and students insight into ecosystems, cell structure and function, genetics, taxonomy, and human biology. The clear diagrams, beautiful images, and various extension and review activities will engage students as they learn about God's Creation and the scientific principles that help us understand it.
"It's a complete package, but the focus on 'Design' is most important and makes this book unique," Atkins said.
"The amazing complexity of just a single cell shouts 'Design,' let alone the trillions of cells making up complex organisms of the higher animals and man," Pennington agreed.
The curriculum is aligned with the Next Generation Science Standards (NGSS) and provides students with a strong foundation for higher-level scientific study. Pennington emphasized the many highly qualified contributors involved in the program's development, which gives ByDesign Biology its credible scientific groundwork. Kendall Hunt Religious Publishing staff and contributors with rich disciplinary experience were responsible for much of the Student Edition, Teacher Edition, labs, and additional resources.
"Teachers can be reassured that [the writers] are experts in their fields at a tertiary level," Pennington said.
Larry Blackmer, former NAD vice president and executive editor of ByDesign Biology, agreed. "It is written by [contributors] who are mostly PhDs in their fields," he said. "A geneticist wrote the genetics portion, a botanist wrote the botany portion, and so forth."
However, what's just as important to Pennington, Atkins, and Blackmer is the fact that ByDesign Biology also gives students an equally strong foundation in the precepts of their faith.
"Students are hugely challenged by evolution, both socially and in their education," Pennington said. "Many fall by the wayside when they enter tertiary institutions because they haven't been given a sound basis for what their church teaches about nature and origins. This is a small contribution to assist them to meet that challenge."
"This is a revolutionary and timely textbook that's a rigorous science textbook," Blackmer said. "It shares the evolutionary thought, but brings it back to a creation-based [worldview]."
Ample teacher resources
For educators, the ByDesign Biology curriculum offers additional resources, developed by the Kendall Hunt Religious Publishing team, to assist with program implementation. The in-depth eBook Teacher Edition features reduced Student Edition pages and includes answer keys and curricular connections to other subjects, such as social studies. The teacher versions of student labs also provide additional information to adapt experiments, guide students through potential areas of difficulty, and answer student questions.
"We provide concepts to help deal with philosophical issues that arise when you study faith and science together," Atkins said. "We include tools for the student and teacher to provide a sound basis for what we believe, and why, regarding origins."
"I am really proud of this curriculum," Blackmer said. "I'm proud to place this as a resource on anybody's table."
Kendall Hunt Religious Publishing and the NAD know that educators nationwide will benefit from this customized, Christian-based biology curriculum. For more information on how ByDesign Biology is a perfect fit for your Christian science classroom, contact Kendall Hunt Religious Publishing (lmolony@kendallhunt.com) today!