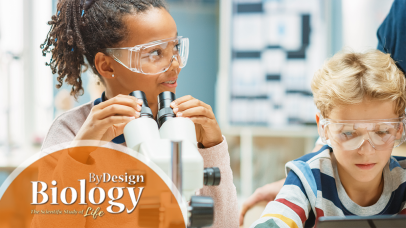 By: Kendall Hunt RPD with contributions from the writing and editorial team of ByDesign Biology

When Larry Blackmer became vice president of the Seventh-day Adventist (SDA) North American Division (NAD) Office of Education, he immediately realized the importance of a Christian-based science curriculum. Spurred by his determination to give Adventist students—and all Christian students—a science curriculum designed for their needs; the NAD collaborated with the Kendall Hunt Religious Publishing Division (RPD) to create the highly successful ByDesign Science textbook series for grades 1–8.
Seeing the success of ByDesign Science inspired Blackmer to push the program beyond the elementary level. "It was obvious to me that we needed the next step: a high school biology program," he said.
Now, after years of hard work in collaboration with the custom publishing experts at Kendall Hunt RPD, that dream became a reality. In the fall of 2020, we had the first roll out of ByDesign Biology which was followed by classroom implementation in the fall of 2021.
Blackmer has since retired from his position as vice president, however he served as the project's executive editor, and is proud of the work that he, his colleagues, and the entire Kendall Hunt RPD team have done to make the curriculum a reality.
Moreover, for Stephen Bralley, NAD Director of Secondary Education & Accreditation, it is a sweet moment indeed. "That certainly was a special moment … to actually have it in flesh and blood, so to speak," said Bralley, who has worked with NAD union directors and superintendents to get ByDesign Biology ready for implementation. "We've started and stopped this process numerous times, and this time it's really completed."
Bralley has worked with teachers to pilot various chapters of ByDesign Biology over the last few school years, soliciting their feedback and improving the chapters. This ensures that educators have the best possible product when ByDesign Biology hits their classrooms starting each fall.
Here, Bralley and Arne Nielsen, NAD Vice President for Education, share some of the aspects of ByDesign Biology which educators are most excited about implementing in their classrooms. We hope they get you interested and excited as well!
Inquiry science
"Part of the excitement is that it's inquiry based; it's interactive," Nielsen said. "The labs are really exciting—there are many features that I heard people talk about that they're excited about."
Students learn best through hands-on, inquiry-based science activities, and ByDesign Biology utilizes that principle while also providing robust and mature scientific information. The educators who have gotten to try out the labs and chapters seemed to agree that the balance was just right!
Diverse and experienced writers
Since Kendall Hunt RPD and the NAD wanted ByDesign Biology to communicate accurate scientific information, many writers contributed to the textbook's 28 chapters. That way, each chapter could be written by an expert—many a Ph.D.—in that field.
According to Bralley, that diversity in authorship makes the curriculum not only high quality, but exciting for students and teachers to explore.
"We have a lot of different writers, and so it's a really interesting textbook because it comes from a lot of different perspectives and experts," he said.
Ample teacher resources
Bralley noted that many educators and administrators interested in ByDesign Biology have been particularly intrigued by the teacher resources such as the eBook Teacher Edition, test bank, PowerPoints and more.
"The question I get most asked is, 'What about the resources and the backup materials?'" he said.
He described these resources as particularly beneficial for science teachers who may not have specialized training in biology—or parents implementing ByDesign Biology as part of a homeschool curriculum. With the additional support materials, teachers will have all they need to give their students the best possible biology experience, regardless of their personal knowledge on the subject.
Objective presentation of worldviews
For Nielsen and Bralley, however, the most important and most unique feature of ByDesign Biology is its ability to communicate in-depth scientific fact without discounting faith.
"This new ByDesign Biology textbook is really a blessing because it allows students to compare and contrast Darwinism and creationism," Nielsen said. "It allows them to move from curiosity into the discovery phase."
The balance that ByDesign Biology strikes has been a boon to both educators and students, Bralley said.
"In this text we believe you can be both scientific and spiritual and religious at the same time," he said. "They're not exclusive. For the first time, Christian students will see their worldview expressed in a professional manner in a text that puts them on equal footing. It won't be any longer an argument between them and the textbook, where they're constantly having to rationalize and defend. It will be looking at it on equal terms. I think that's important."
Introduce the ByDesign Biology program to your classroom and start to see the many ways your students engage with the world around them.
For more information, contact Kendall Hunt PreK–12 Religious Publishing today!