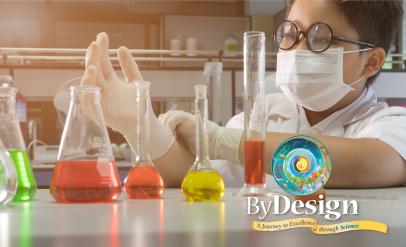 By: Kendall Hunt RPD with contributions from the writing team of By Design Science grades 1-8

Educators nationwide have had their lives turned upside down by COVID-19. Classrooms have emptied, schools have shuttered, and lessons have moved online. We here at the Kendall Hunt Religious Publishing Division (RPD) salute you for the amazing work you have done and are doing to keep your students learning under such challenging circumstances.
The changes wrought by COVID-19 may have you pondering your science curriculum and how well it's adapted to the sudden shift to online instruction. Whether or not you and your students are able to return to the classroom this fall, this pandemic has taught us all that we need to be prepared to switch to online education at a moment's notice. Can your science curriculum do that?
ByDesign Science can! Here are three reasons why our customized, faith-based science curriculum for grades 1–8 should be high on your list as you consider the best curricular options to provide your school with flexibility in the face of sudden changes like COVID-19.
1. Step-by-step, easy-to-implement lessons
When your students' parents suddenly become their educators as well, they may feel overwhelmed. Luckily, ByDesign Science is designed as a step-by-step, all-inclusive curriculum, carefully laid out so that educators—whoever they are—can help students succeed.
"Everything is right there to make this curriculum easy to pick up and use without much planning and prep on your part or on your student's," wrote Leah of the As We Walk Along the Road blog. "There are suggestions for pacing—how much to read and do each day—as well as materials lists for the explorations, a guide for reading through the textbook with your child, answer keys, […] grading rubrics, and a comprehensive glossary."
The best part? All of these resources are available online, meaning students and home educators can have access to them anytime, anywhere.
2. Consistency across grade levels
ByDesign Science is developed for possible use in multi-grade classrooms, meaning that standards and lesson topics are aligned across multiple grade levels. For parents with multiple children, this can be a lifesaver—students can tackle their science lessons together and share the learning experience.
"ByDesign provides resources for families with multi-grades under one roof. The same topic can be taught across grade levels, and oh my goodness, how smart is that?!" wrote Natasha of the blog Houseful of Nicholes.
Consistency and correlation across grade levels also mean that parents who have suddenly become home educators won't be overwhelmed by a vast array of topics and approaches to learning. Once your students' parents understand one child's science curriculum, they understand them all.
"You are working with similar materials for all of your kids and don't have to learn a different science program for each child you're homeschooling," wrote Ticia of the blog Adventures in Mommydom.
3. Ability for independent work
Not all parents can become their children's full-time teachers at the drop of a hat. Many are working, whether from home or in essential jobs. ByDesign Science is structured around activities and lessons that students can complete independently, without instructor prompting or supervision.
"The experiments are simple and un-intimidating for busy homeschool parents and for kids who want to tackle them independently," wrote Angela of the Nurtured Roots blog.
Not only can activities be completed independently, but the labs also use materials that students can easily access in their own homes.
"Pretty much all of the labs we worked through used materials I could easily get ahold of," Ticia wrote. "This is a HUGE benefit."
It's not only a benefit for the busy parent but also for students' learning outcomes as well because hands-on inquiry science activities have often been the first things to go during the shift to online education. That's a shame, says Morgan Turano of Victory Productions, because these activities are often the ones that have the most dramatic impact on students' science learning.
"Laboratory work is by definition hands-on," she wrote. "Some university science teachers have decided to provide their students with data, which the students can then analyze. But […] the investigation is infinitely more useful for grade school students than a successful outcome. When things go right, students often just learn the steps to completing the experiment, rather than the importance or significance of the steps or the reasoning behind a procedure or a particular setup."
By using materials and labs that students can easily and independently complete at home, ByDesign Science avoids this problem and allows educators to preserve the inquiry aspect of the science curriculum even when students can't be in the classroom.
With these ideas in mind, educators using ByDesign Science can feel confident that regardless of whatever changes and challenges may arise, their students' science education won't be completely disrupted. Visit https://rpd.kendallhunt.com/program/bydesign-science to learn more!
Resources:
https://victoryprd.com/blog/teaching-science-remotely-during-covid-19/#utm_source=email&utm_medium=email&utm_campaign=teaching%20science%20remotely%20during%20covide19