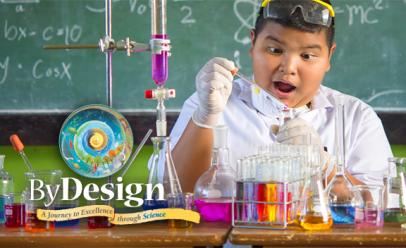 By: Kendall Hunt RPD with contributions from the writing team of ByDesign Science and Biology

"It is entirely possible to study science in a sound way with critical thinking skills, looking at the facts and the way things work, without dismissing faith out of hand. Faith and science are not at odds when you objectively examine the evidence."
—Sara, Heart and Soul Homeschooling blog
This wonderful quote from Sara sums up the philosophy of both of the Kendall Hunt RPD's customized, faith-based science curricula, ByDesign Science for grades 1–8 and our new high school ByDesign Biology program!
In both programs, our expert authors, researchers, and editors have striven to deliver high-quality scientific content while still communicating Christian beliefs. To us, it's not an "either-or" approach; it's "both-and" … and ByDesign Science lets you have it all!
The Kendall Hunt RPD works closely with educational authorities from the Seventh-day Adventist school system to develop our customized curricular materials, but these Christian-based programs are applicable to a wide range of faith traditions and beliefs. Parents and educators in the homeschool and traditional educational market across the country have complimented ByDesign Science for the way in which it not only reaches across the religious spectrum but also bridges the traditional gap between science and faith.
"Too often I think science is pitted against faith in our culture, and I want my kids to see that you can be a scientist and think in a scientific, investigative, critical-thinking way and be a Christian," wrote Leah of the As We Walk Along the Road blog.
To clearly demonstrate to students that scientists can indeed be committed Christians, ByDesign Science includes cross-curricular connections, such as the People in Science feature. These spotlights introduce students to famous and influential scientists, many of whom are also committed Christians. In learning about these researchers, such as Dr. Larry Vardiman, who studies hurricanes to better understand the Genesis Flood, students come to understand how scientists can work to serve God and His creation.
In all aspects of the ByDesign Science curriculum, curiosity and inquiry are encouraged, and students are guided to understand how their faith and their learning work in tandem rather than competing against each other.
"Since God designed the world, that meant that science was a perfect explanation from Him. They could exist mutually," wrote Natasha of the Houseful of Nicholes blog. "It's nice to find something that allows for honest discussion and helps us to understand the world around us."
That three-way connection between science, faith, and the "real world" of children's day-to-day lives is at the core of the ByDesign Science curriculum. Through Scripture Spotlights, which direct students to Bible passages related to the topics in the chapter, ByDesign Science shows students the ways in which those three prongs coexist and complement each other. This type of critical thinking, and the deep discussions that it can often generate, means that students of ByDesign Science (and ByDesign Biology) are well prepared for the more rigorous cognitive challenges of higher education.
We'll let Virginia of the That Bald Chick blog have the last words: "It's important, to me, that my kids understand that they can be delighted by all things science AND maintain their faith," she wrote. "ByDesign Science, from Kendall Hunt Religious Publishers, is a great inquiry-based science curriculum that allows students to explore their love of science without relinquishing their faith."
Visit our website today to learn more!