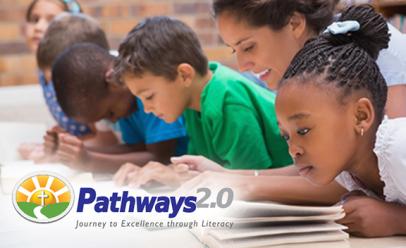 By: Kendall Hunt RPD with contributions from the editorial team of Pathways2.0

It's no secret that we here at the Kendall Hunt Religious Publishing Department (RPD) love Pathways2.0, our customized, faith-based reading and language arts program for grades 1–8. And we're not the only ones!
Educators nationwide love our new curriculum as much as we do. We've compiled five key reasons why our users love Pathways2.0, and we bet you and your students will love it just as much as they did!
1. It features quality, engaging literature
Jenn of the Mama Jenn blog writes, "My favorite part of the program is that each unit utilizes an award-winning anchor book to help provide context for applying the skills learned within the unit."
We couldn't agree more! Students learn best when they're learning in context, and they learn even better when their curricular materials are something they want to read and engage with. That why we chose quality literature for each of the nine themed units of Pathways2.0—literature that supports students' academic development but also introduces them to topics they're curious about.
Sara of the Heart and Soul Homeschooling blog writes, "Pathways2.0 uses engaging books that children naturally want to read to build reading and language arts skills. The photos in the book [First Flight] are beautiful, and my daughters were completely fascinated from the minute the book arrived."
2. It includes everything you need
"Everything I need—resource suggestions, scripted lessons, answer keys, and assessment tips—is all there waiting for me in the guide," Emily Copeland of the Home School Network puts it. "That saves me tons of time when preparing for my weeks."
Teachers want and need to be able to spend their time engaging with students, not searching for curricular and supplementary materials. With Pathways2.0, even the smallest details, like answer keys and additional resources, are included, meaning you don't have to look elsewhere for any aspect.
"The unit really does include everything you need to teach that unit," writes Virginia of the That Bald Chick blog. "It includes the Teacher Daily Lesson Guide and every printable and worksheet you'll need. It's all there for you in one neat bundle."
This all-inclusive structure also means that educators and parents can be assured that their students' reading and language arts curriculum covers the bases in terms of standards, content areas, and emotional development. Pathways2.0 hits all those important areas, targeting handwriting, grammar, spelling, reading comprehension, and even faith-based lessons in one curricular package.
3. It follows an easy, step-by-step format
What's even better about Pathways2.0 is that our customized, faith-based curriculum doesn't just hand you these materials and then leave you stranded during the implementation process. Our curricular experts have structured the program as a step-by-step guide, meaning that educators are supported throughout the entire program so that their students get the most out of the material.
"From the Weekly At-a-Glance overviews to the detailed daily lesson plans with instructions for reading, writing, and word study, there's no guesswork involved, and there's no need to supplement," Emily writes.
Jenn adds, "The Teacher Daily Lesson Guide tells you exactly what to do every single day for the entire unit!"
We've done the prep and planning work so that you don't have to, meaning that, once again, you can put your focus and time where they belong—with your students.
4. It's flexible and adaptable
The two previous perks of Pathways2.0—its all-inclusive structure and easy-to-implement layout— might make educators worry that our curriculum is too rigid to allow for adaptation. Luckily, nothing could be further from the truth!
"Even though everything is laid out for you to use, the curriculum is pretty flexible as well," writes Leah of the As We Walk Along the Road blog. "You can choose from their themes and grade levels and adapt for the ability level of your students. This is great for homeschool moms like me who like a little bit of structure but who also likes to change things up a bit."
For both homeschool educators like Leah and traditional classroom teachers, Pathways2.0 offers structure without rigidity. If your students need extra support or an additional extension, Pathways2.0 provides both. If your classroom calendar or multi-grade learning environment requires adjustments to our suggested schedule, Pathways2.0 is flexible so that you can mix and match without fear of missing important material.
"Each time we've used Pathways2.0, I've discovered an abundance of guidance and options for teaching," Emily writes. "That's exactly what makes it so easily adapted."
This adaptability is paramount in times of educational crises and abrupt change as well; check out our blog "How Pathways2.0's All-Inclusive Structure Makes Online Education a Breeze" for more!
5. It's budget-friendly!
Not only does Pathways2.0's all-inclusive structure make it easy for you to deliver content in every area of language arts, but it also means you're not paying through the nose for separate curricula for reading, spelling, and more.
Natasha of the blog Houseful of Nicholes describes Pathways2.0 as "perfect for homeschooling families on a budget," and DJ Burleson of The Bookish Den blog writes, "If you're on a budget and don't have the money (or time!) to track down individual programs for writing, reading, grammar, etc. I would highly recommend this."
Visit our website or contact Lynn Molony (lmolony@kendallhunt.com) for more information on pricing, curricular options, and more!