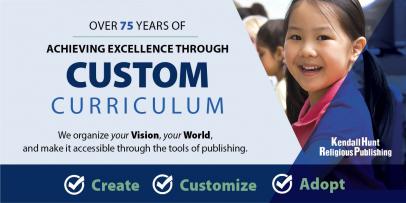 By: Lynn Burds Molony, K12 Director of Institutional Publishing and the editorial team

"Working with Kendall Hunt Publishing to Customize Our Curriculum Has Exceeded Our Expectations!"
Many educators often experience frustration when trying to find the perfect resources for their needs. When currently published curriculum offerings just don't measure up to the standards that you have set for your classroom, custom publishing is a fantastic solution to get exactly what you need.
Custom curriculum resource development offers you greater control over your students' success. With content tailored to your specifications, you can guarantee that the material you're teaching your students upholds the mission and values of your school. Our trusted team of instructional designers and subject-matter experts provides versatile, collaborative guidance to ensure that your desired educational outcomes are met.
You are the one who knows your organization's unique core beliefs best. Our team works with you and listens to your needs in order to build your goal-oriented, custom curriculum. No matter what your teaching style or preferred methods, we will work with you to create something uniquely yours. We offer solutions for engaging students through traditional, hybrid (traditional and digital), or digital-only learning environments.
Seventh-day Adventist schools, among others, have realized that custom curriculum can promote and help core values stay at the forefront of education instead of being pushed aside. As Larry Blackmer, (retired) Vice President of Education, Seventh-day Adventist North American Division/Office of Education, noted: "Working with Kendall Hunt Publishing to customize our curriculum has exceeded our expectations and fully complements our core value of Achieving Excellence through Education."
We offer a threefold collaborative approach to creating what you need:
Create your own product: Our custom programs and resources encourage life and career skill development through inquiry, critical thinking, communication, collaboration, and creative thinking. These programs encourage the development of life skills at an early age in a values-based environment, creating an education program that is exceptional in more ways than one.
Customize an existing product: Kendall Hunt also offers existing content that can be tailored to meet your program's goals while teaching your organization's values and beliefs. Our team has science, reading, language arts, math, and talented and gifted programs available that can be modified for your specific needs.
Adopt one of our product: There's no need to spend time teaching around curriculum and using resources that don't live up to the high standards that you and your students deserve—let's work together to create your perfect custom curriculum and resource solution!