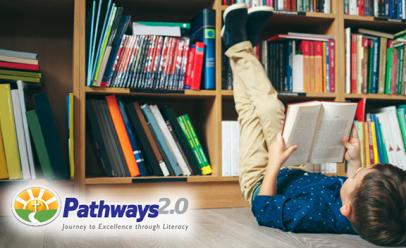 By: Kendall Hunt RPD with contributions from the writing team of Pathways2.0 Reading Language Arts gr. 1-8

During the shift to online education, it's easy to assume that reading and language arts teachers have it easier than some of their colleagues because it's easy to teach reading at home, right? After all, many schools already do read-at-home programs, and students can just pick up a book and read. Problem solved!
Well … maybe not exactly.
Independent reading is great, but that only takes students so far—without structure, students may not grasp the important concepts or themes you're hoping they glean from their reading time. Handwriting, grammar, and spelling can go by the wayside. And what about the students who don't have access to books or technology?
We here at the Kendall Hunt Religious Publishing Division (RPD) don't have all the answers—no one does—and we certainly don't have the answers for every situation. But if you're an educator wondering how to implement Pathways2.0, our award-winning reading and language arts curriculum, in an online format, remember that Pathways2.0 is designed to allow you to serve your students wherever they are.
Here are three ways Pathways2.0's all-inclusive, step-by-step structure sets you up for success during educational crises like COVID-19.
1. Our all-inclusive, easy-to-access curriculum allows you to give your students access to reading-support resources so that they are gleaning information from their reading time
Pathways2.0 is built around award-winning Anchor Texts, which allow students to enjoy quality literature in a structured, discussion-based format. The curriculum is designed so that students utilize the book throughout the entire unit, as the foundation for all other learning, meaning that it's essential that students learning from home have access to not just the Anchor Text itself but also the accompanying printables and worksheets. The all-inclusive Pathways2.0 curriculum makes this easy for the educator.
"The unit really does include everything you need to teach that unit," wrote Virginia of the blog That Bald Chick. "It includes the teacher Daily Lesson Guide and every printable and worksheet you'll need. It's all there for you in one neat bundle."
With all these printables and worksheets easily available, educators can send copies to students electronically or, for students without access to technology, distribute physical copies at designated no-contact pick-up sites or through home drop-offs. Either way, your students will have access.
Plus, just to make doubly sure that educators have access to their materials during COVID-19, we at Kendall Hunt RPD have made available online, for all schools utilizing Pathways2.0, two additional grade-level Daily Lesson Guide (DLG) teacher resource sets, including blackline masters and printables. With this free 60-day access, teachers can truly take advantage of the way Pathways2.0 is structured to give students access to what allows them to get the most out of their reading, no matter where they are.
2. The curriculum teaches language arts in context, including grammar, spelling, and handwriting, so parents and educators don't have to worry that students are missing valuable instruction
Once you're able to get printables and resources to your students, you can feel confident that with Pathways2.0, they're getting all the language arts support they need, from grammar to handwriting.
"This isn't just a reading program," wrote DJ Burleson of the blog The Bookish Den. "This is reading, writing, grammar, and vocab all wrapped up together. If you're on a budget and don't have the money (or time!) to track down individual programs for writing, reading, grammar, etc., I would highly recommend this."
"In the theme units from Pathways2.0, all of the language arts skills are taught in the context of the anchor book that the unit is focused on," agreed Leah of the blog As We Walk Along the Road. "Kids are learning vocabulary, grammar, and writing in context. And they are sharpening their reading comprehension and learning new reading skills from studying the text as well."
It's in a situation like COVID-19 where the benefits of a comprehensive reading and language arts curriculum that teaches things in context become apparent. With this type of comprehensive program, there's no need to worry about piecing together a curriculum that is accessible for your students: Pathways2.0 includes it all and makes it easy for you to get the information to your students.
3. It's easy for parents to implement it at home
Finally, the all-inclusive curriculum means that parents who have suddenly become home educators can have a step-by-step roadmap to help their children achieve as students. Homeschool parents, such as Tricia of the blog Adventures in Mommydom, have already praised this feature of Pathways2.0.
"This is perfect for a new homeschooler who wants lots of support," she wrote. "You're given a step by step, how much time to allow, and this is going to feel a lot like what they are used to at school."
Jenn of the blog Mama Jenn agreed: "The Daily Lesson Guide tells you exactly what to do every single day for the entire unit!"
Furthermore, the detailed and consistent structure of our curriculum means that most students who have used Pathways2.0 for almost a year already will know what to expect from a unit and Anchor Text. Older students can even complete some of the activities independently (a plus for working parents who can't become their children's full-time educators), and even younger students will need less parental guidance when the curriculum is designed to help them establish a strong reading routine.
Thanks to the all-inclusive nature of Pathways2.0, no matter what COVID-19 throws at you and your students, you can be assured that they're set up for language arts success!