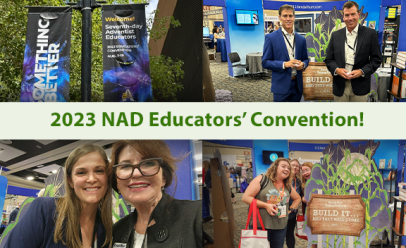 By: By: Kendall Hunt RPD with contributions from the editorial team

"Build it and YOU Have Come!" became the mantra for the 2023 Educators' Convention in Phoenix AZ on August 6-10th where over 6,000 educators merged to discover Something Better on their Journey to Excellence in Education. The setting was perfect and the positive buzz throughout the convention center was so contagious, that one didn't even notice the 104 degrees plus temperatures outside…it was dry heat!
Some highlights included:
Having the opportunity to meet and connect with so many of the educators eager to visit with us face-to-face at the Kendall Hunt booth on opening night. This setting provided everyone the opportunity to learn more about the products and programs Kendall Hunt Religious Publishing has to offer. It is worth noting that for over 20 years, Kendall Hunt RPD has had the privilege of collaborating with the NAD Office of Education in creating custom curriculum solutions that reflect the core beliefs of their Adventist school system.
In addition to the unique in-booth activities on opening night, Kendall Hunt co-presented two engaging ByDesign Science breakout sessions to get product feedback asking these questions: When you are teaching ByDesign Science, are you and your students getting the full benefits of this inquiry science program? Do you have questions on how to access your digital resources and implement all the valuable resources available to support you and your students? One educator who attended one of these two sessions shared, "It was so amazing to get hands-on experience with the manipulative kits so we can return to the classroom with confidence!".
"During these sessions we were able to successfully help traditional and multi-grade classroom teachers discover strategies and skills that are valuable to teach to the fidelity of the program, as well as fine tune their inquiry science skills," offered Lynn Molony, K12 Director of Institutional Publishing.
It is important that we have teachers confident when teaching these customized programs and support the efforts of What Does a Standards-based Classroom Look Like? To be clear, a standards-based classroom is messy and structured to meet the needs of all the students. Because of the requirement that students be competent at applying knowledge, the standards-based classroom will be a very different place from the one we remember from our own schooling.
"It is always great to connect with educators at this convention every five years. Meeting face-to-face and getting feedback on some of our products, like ByDesign Science, Pathways2.0 Reading and Language Arts, and Kindergarten Stepping Stone. The ByDesign Biology program is starting to get some traction as well. These programs have been pivotal to our success as a publishing company," says Kendall Hunt K-12 Vice President Charley Cook.
The K-12 Kendall Hunt team all agreed that getting the opportunity to learn more about what teachers are looking for has been amazing and we look forward to continuing our work with the NAD Office of Education to deliver the right solutions to all types of educators!