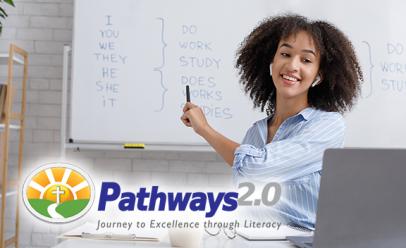 By: Kendall Hunt RPD with contributions from the writing team of Pathways2.0 Reading and Language Arts

As the COVID-19 pandemic shuttered schools in March of 2020, the focus of many parents, teachers, and administrators was on how students would make up the academic content they were going to miss. How would we ensure that students hit the educational milestones necessary to keep them on track?
But even as members of the educational community were focusing on these important academic issues, many were also voicing concerns about the social-emotional well-being of the students. How would we support them as people—not just students, but people—through this crisis?
According to the Association for Supervision and Curriculum Development, whole-child learning is "an effort to transition from a focus on narrowly defined academic achievement to one that promotes the long-term development and success of all children." This can mean anything from mental health support to technology assistance, wraparound services, personalized learning plans, and more.
The ideas of whole-child education and social-emotional learning are not new, but with the pandemic, they became newly important. From opening Zoom meetings early and chatting with students to offering one-on-one virtual tutoring or connecting parents to food, housing, and health resources, teachers have gone the extra mile this year to address their students' diverse needs.
But whole-child education is more than just services to fill the gaps; it's also about guiding students to become people of character. In a blog for EducationWeek.org, behavioral scientist Angela Duckworth painted a picture of "character education" that focuses on integrity, honesty, social responsibility, persistence, self-discipline, and work ethic.
During the COVID-19 pandemic, students have needed all of those characteristics to succeed. Although good teachers can guide students in whole-child learning with any curriculum, there's no denying that a curriculum with inherent character education makes things easier . . . and Pathways2.0 Reading and Language Arts does just that!
Our customized, faith-based reading and language arts program for grades 1–8 makes whole-child learning a priority. With themed units such as Heroes and Walking with God, the Pathways2.0 program introduces students to role-model characters of high religious and moral standards, showing them how to develop healthy relationships with others and live as people of character. Other themes, including Social Issues and My World, tackle diverse social and global topics, such as poverty and racism, helping students understand and discuss these important issues.
What sets Pathways2.0 apart is the way in which character education is not a separate lesson but is part of the student's academic learning. While they're practicing phonics and reading strategies, they're exposed to important examples of all those characteristics Duckworth cited— honesty, integrity, ethics, and more. For teachers during the pandemic, this is important because when the educational model shifts, sometimes "extra" classes, such as character education, go by the wayside. But when it's conveniently built into the curriculum, you can rest assured that your students are still getting social-emotional support at the time they need it most!
By making faith education, character education, and whole-child education key components of the curriculum, Pathways2.0 sets teachers up for success in times like the COVID-19 pandemic, when these aspects are more important than ever. Contact us today to learn how our customized reading and language arts program could be a perfect fit for your classroom!
Sources:
https://www.edutopia.org/article/what-educators-are-learning-during-pandemic
http://www.ascd.org/whole-child.aspx
https://www.edweek.org/leadership/opinion-what-research-says-about-supporting-the-whole-child/2020/12