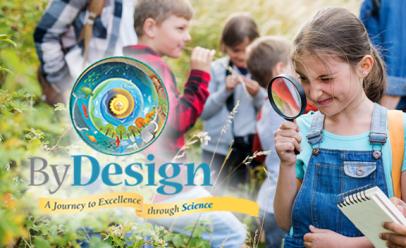 By: Kendall Hunt RPD with contributions from the writing team of Pathways2.0 and By Design Science grades 1-8.

Have you ever wondered how you can use all the core resources in one useful curriculum? A curriculum that aligns with your core beliefs and standards?
With every new school year comes the excitement and challenge of reviewing and implementing a new curriculum. Most curriculums require you to put in additional time to find resources supporting the required expectations of a school and the staff. Many educators experience frustration when trying to find the perfect resources for their needs.
This year, why not take a leap and try a customized curriculum? A customized curriculum puts you in control of your students' success. You are the one who knows your organization's unique core beliefs best. Our team works with you and listens to your needs in order to build your goal-oriented, customized curriculum.
"Customized" can mean different things in different educational settings, and the Kendall Hunt Religious Publishing Division is ready to handle them all. Here are just a few of the unique things that are possible with a customized curriculum that a conventional curriculum can't always deliver.
A customized curriculum can be …
Faith based
If your faith is an integral part of your life, it's logical that you want it to be a part of the lessons you teach your students. Rather than keeping faith separate from students' educational lives, use the rich heritage of your faith to create a rigorous curriculum that promotes academic achievement along with moral values and responsibilities. With a customized curriculum, whether in science or language arts, you can incorporate elements of scripture, religious teaching, or any aspect of your community's worldview. In a standard curriculum these things simply aren't possible. The ByDesign Science program does just that. An engaging, rigorous, and developmentally appropriate curriculum nurtures children's natural curiosity as they explore the wonders of God's creation through the lens of the Bible.
Inquiry based
Student questioning and discovery are proven ways of enriching student success. Using Inquiry-based learning instead of lecturing and textbook study is easy with a customized curriculum. Rather than being bound by the structure and pacing of a conventional curriculum, you can use a customized curriculum to incorporate experiments, projects, and most importantly, carefully posed questions to enhance learning. The ByDesign Science and Pathways2.0 programs allow students to learn literary skills and scientific processes of science, while developing their own questioning skills through inquiry.
Multigrade
For schools that follow a multigrade organizational pattern, your saving grace will be using a customized curriculum. Rather than struggling to adapt traditional lesson plans and activities to function effectively in a multigrade classroom, use a customized curriculum such as Pathways 2.0. This language arts program for grades 1–8 features Daily Lesson Guides combining two grades for easy use in a multigrade setting. ByDesign Science also features a four-year cycle of grades 1–4 and grades 5–8, with a multigrade teacher guide.
Technologically savvy
Twenty-first-century students need technological literacy skills, and a customized curriculum that can incorporate those skills in ways that a conventional curriculum cannot. For example, the ByDesign Science program offers both print and eBook resources. The eBook addition to the print textbook gives students ways to practice their technological skills and learn anytime, anywhere. The design and structure of a standard curriculum doesn't allow for such seamless implementation of technology, but with a customized curriculum, the world is at your students' fingertips.
Custom curriculum resource development offers you greater control over your students' success. With content tailored to your specifications, you can guarantee the material you're teaching your students upholds the mission and values of your school.
How would you use a customized curriculum solutions to change your classroom for the better?