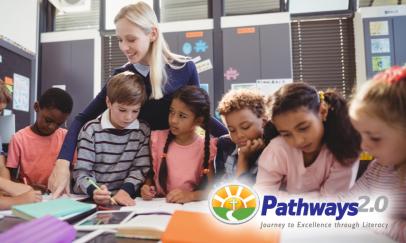 By: Kendall Hunt RPD with contributions from the editorial team of Pathways2.0

As we continue into the month of August, in any other year, teachers would be knee-deep in curricular planning and classroom décor, excitedly preparing name tags and lesson plans for the start of another great school year.
But as we are all more than aware, this isn't "any other year."
In the world of COVID-19, planning in advance has become a challenge. With health guidelines and statistics changing every day, how can educators possibly move forward with plans for this school year, unsure of what the fall may bring?
You've likely already imagined (or even encountered) the scenario: you spend hours meticulously planning your lessons and adapting your classroom procedures to keep students safe … only to have to make a sudden switch to online education, or vice versa.
How can you prepare effectively, yet without wasting your time if changes must be made at a moment's notice?
This fall, lessen the guesswork and uncertainty by choosing a curriculum that's easy to implement and doesn't waste time on unnecessary prep work, such as Pathways2.0!
With our customized, faith-based reading and language arts curriculum, the need for prep work is limited because Pathways2.0 is an out-of-the-box, all-inclusive option.
"The curriculum offers everything you need to build strong readers who enjoy high-quality books," writes Tiffany of the blog Homeschool Hideout. "Best of all, you don't need to spend hours planning each week's lessons: it's all done for you."
This means that even if COVID-19 necessitates a change of plans at the last minute this fall—or even during the school year—you won't need to panic, thinking of the hours you wasted writing your lesson plans and structuring your days. With Pathways2.0, you don't have to put in that time in the first place!
"The corresponding Teacher Daily Lesson Guide tells you exactly what to do for this unit. Every day is laid out for you, which is a great sanity saver [and] time saver," writes Virginia of the That Bald Chick blog. The Teacher Manual and Writer's Handbooks are essential and great resources to assist teachers and students.
When you use Pathways2.0 in your reading and language arts classroom, you can easily implement it in any setting with minimal effort and minimal prep time.
That doesn't mean you're "taking the easy way out"—far from it. Rather, you're reducing the time you'd spend doing prep work (work that might all change on a dime anyway), allowing you to spend your valuable time engaging with the students, whether that's in person or through a computer screen. We've done the prep work so that you don't have to and so that you don't have to waste time on it … and this fall, in this world of uncertainty, that's more important than ever.
Check out Pathways2.0 to see how its ease of implementation allows you the time you need to adjust to last-minute curricular changes as we navigate a return to school amid COVID-19!