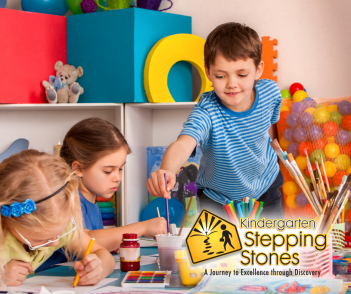 By: Kendall Hunt RPD with contributions from the editorial team

"Every teacher's goal is to provide the best learning environment for their students. For the early childhood classroom, learning centers is the best developmentally appropriate practice" (McLennan, 2011).
Learning centers are designated areas where children can enrich their learning. The Kindergarten Stepping Stones curriculum is modeled on the belief that kindergarten children need frequent changes of activities, fairly predictable routines and occasional surprises. Kindergarten teacher Melissa shares the same sentiment, noting that, "While it's important to keep things consistent, it's important to switch up that consistency."
That may seem incongruous, but there is, in fact, one ideal way to deliver all these learning experiences: centers! When students rotate between centers after a set period, that's a frequent change of activity. It's embedded in a predictable routine because students know where to go during center time and how long to spend there.
Centers are a great way to give students independent work time, differentiated instruction, and practice of necessary skills. But they can be tricky to implement, and they aren't the solution to everything. Here are six things centers are not:
1. Not the time for big groups
Our teacher, Melissa says, "Larger groups of students create more noise, more opportunities for arguing and off-task behavior." Two students are her ideal number, although your class size will dictate this. Kindergarten Stepping Stones offers ideas for managing the group, such as placing a certain number of chairs or materials at each center to indicate the number of students it can accommodate. Six chairs? Six students. It's easy for students to independently settle questions, and it keeps them on task and engaged.
2. Not the time to introduce new skills
Speaking of staying on task, one way to guarantee off-task behavior is to assign a center with a concept that you only taught once. "Center time should be used for practice and review," says Melissa. "You don't want to make the work too hard that students get frustrated or can't complete." Practicing material in a familiar format gives students the satisfaction of completing work independently.
3. Not the time for busywork
With that said, "practice" doesn't need to be boring or pointless repetition. Former elementary teacher, Megan McCall, stresses that, "Centers should be aligned to current or previous units." Centers are one of the best times for hands-on, cooperative, open-ended, and problem-based learning, teachers can show students how unit content connects to, real life.
4. Not the time for solely paper-and-pencil activities
It's hard to connect concepts to real life using nothing but worksheets. Linda Shalaway of Scholastic notes that, "Students should also have opportunities to draw, color, cut, glue, match, listen, fasten, tie, select, compare, classify, outline, assemble, rearrange, etc." Make your centers worth visiting!
5. Not the time for pullout groups (at least not right away)
This one may surprise you because center time is often seen as the perfect time to pull out small groups or individuals. And after a month or two, it is. But initially, Melissa advises, "You might want to wait on pulling groups. When you're first starting centers, it is important that you make yourself available. Circulate the room to observe, monitor, and redirect if needed. That way, students aren't roaming the room to find you, distracting themselves and others."
6. Not the time for telling students what to do
Kindergarten teacher Greg Smedley-Warren stresses that the most important part of centers is choice! His centers are full of opportunities for students to choose what they want to learn and when, with a finite set of options so that young learners aren't overwhelmed. "[Students] get to do what [they] want to do, so they're empowered and engaged," he says. "When our students are empowered, they have buy-in. When they have buy-in, their behavior is better!" In other words, if you let independent learning take the lead, the on-task behavior will happen naturally.
Centers are the perfect combination of choice and control, of change and consistency. They guide your students to be self-directed and independent learners. Check out our customized Kindergarten Stepping Stones curriculum to learn more about how to implement centers in your kindergarten classroom today!
How will you use centers to "switch up the consistency" in your Preschool and Kindergarten classroom?
Sources:
https://www.scholastic.com/teachers/articles/teaching-content/new-teachers-guide-setting-learning-centers/