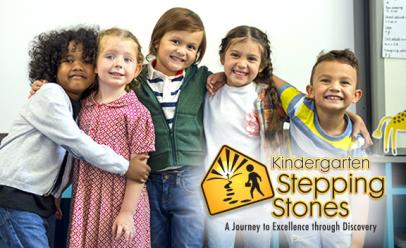 By: Kendall Hunt RPD with contributions from the editorial team of Kindergarten Stepping Stones

This past summer, we posted a blog sharing five reasons we love Pathways2.0, our faith-based, customized reading and language arts curriculum for grades 1–8. But we didn't ask you to take our word for it . . . we shared testimonies from parents and teachers across the country who love it, too!
Today, we're doing the same for our faith-based kindergarten curriculum, Kindergarten Stepping Stones. Once again, we're using the thoughts of those who know best: educators nationwide.
In fall 2020, Kendall Hunt Religious Publishing and the Seventh-day Adventist (SDA)/North American Division (NAD) Office of Education completed a curriculum survey involving more than 745 teachers, principals, and administrators who use our various curricula. Several of the questions asked respondents for their thoughts on the most valuable aspects of our programs, so we're sharing their responses with you today as we take a look at "The Top-Four Things We Love About Kindergarten Stepping Stones"!
Thematic structure
Respondents expressed their appreciation for the way in which the Kindergarten Stepping Stones curriculum follows the themed units of Pathways2.0, our customized, faith-based reading and language arts curriculum for grades 1–8. The overall correlation of the program also attracted praise, with participants mentioning the songs and trade books (36 books in total) that connect to each theme.
"(The) program has the input of teachers, who are the ones directly involved," one respondent shared. Indeed, educators worked right alongside our custom publishing experts to design this innovative, faith-based kindergarten curriculum, which is why its structure is such a perfect fit for kindergarten classrooms!
Digital features
Many participants commented favorably on the availability of both print and digital resources. They appreciated the online access to blackline masters and printables, especially during times of remote learning such as COVID-19 or simply anytime they weren't able to be in the classroom. Yet they also noted that print versions of the Teacher Manual and Daily Lesson Guides were useful for notetaking and classroom use.
"I like to have the lesson in print and add my own notes and different instructions for needy students and for students performing at a higher learning level," said one participant.
Another respondent agreed: "I appreciate having the printed Daily Lesson Guides for each theme and love having easy access to the student printables."
All-inclusive nature
Kindergarten Stepping Stones is a complete curriculum for kindergarten that covers all subject areas, from math to Bible study to poetry and language arts. Teachers can be confident that their students are learning everything needed to prepare them for further years of study, and many survey respondents praised this inclusivity.
"I really enjoy this program. It is a program that has been designed to use every one of its components," wrote one respondent.
Another commented, "I think that every part of this program is valuable to teachers and administrators."
Varied additional resources
As part of that all-inclusive structure, Kindergarten Stepping Stones features a myriad of additional resources designed to help teachers launch a journey of learning for young minds. Bible story lapbooks, Bible story and music CDs, and a poetry resource book are all included, as well as online resources such as math/reading/writing tracking cards, sample progress reports, and customizable blackline masters.
As a separate component of the curriculum, the step-by-step phonics program Stairway to Reading includes activity books, picture cards, plastic and sandpaper letters, and objects for each letter of the alphabet.
"The plethora of activities is the beauty of the program," one respondent wrote. "It's so versatile."
For more information on how you can bring these amazing benefits to your kindergarten classroom, contact Kendall Hunt Religious Publishing today!