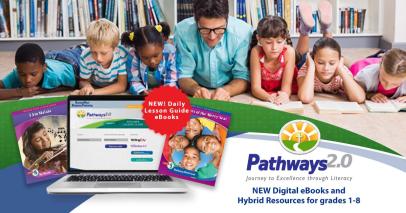 By: Kendall Hunt RPD editorial with contributions from the editorial team of Pathways2.0

Welcome to Pathways2.0: A Journey to Excellence through Literacy! This program provides instruction in "cherishing the meaning of knowledge" through reading, writing, listening, and speaking.
Engage your students using a student-centered learning program created to take into consideration each learner's spiritual, mental, physical, social, and emotional development. This program is designed to meet your needs as an educator by providing you with print and digital hybrid options that were carefully curated to include the tools and resources you need for an easy implementation.
Pathways2.0 focuses on optimizing literacy and language acquisition for all students. The essential instructional blocks (reading, writing, listening, and speaking) identify what students should know and be able to do to accomplish their goals. These rigorous standards are spiral in nature, and reflect spiritual values and form the foundation of the curriculum. The scope and sequence ensures that standards are systematically embedded throughout each unit of instruction.
McTighe and Wiggins (2013) recommend that standards be unpacked into the four broad categories of transfer goals, big ideas, essential questions, and performance tasks:
Transfer Goals identify what we want students to be able to do when they confront new challenges—both in and out of school.
Big Ideas state what skilled performers will need in order to effectively transfer their learning to new situations.
Essential Questions engage learners in making meaning and deepening their understandings.
Performance Tasks are curriculum-embedded tasks intended to engage students in applying their knowledge and skills in an authentic and relevant context.
The Pathways2.0 curriculum can be further defined through the application of the principles of cognitive rigor. Karen Hess's work related to Webb's depth of knowledge (DOK) and Bloom's taxonomy resulted in the Cognitive Rigor Matrix. According to Hess (2016), "Cognitive rigor encompasses the complexity of content, the cognitive engagement with that content, and the scope of the planned learning activities." The Cognitive Rigor Matrix is a curriculum tool used to guide instruction and assessment found in Pathways2.0. This approach allows students to follow a variety of avenues, as they become effective readers, writers, speakers, and thinkers.
Reading and Writing Genres The spiral nature of language arts instruction in Pathways2.0 enables students to demonstrate increasing sophistication in all aspects of language use. In a spiral curriculum, students are expected to meet each year's grade-specific standards and retain or further develop skills and understandings mastered in preceding grades.
Reading
The standards define the knowledge and skills needed for informational text and literature. A key shift in Pathways2.0 is an increased emphasis on informational text. This shift is imperative because content knowledge is necessary for students to compete with the demands of the twenty-first century and to understand other perspectives and cultures. Students who are college and career ready establish a base of knowledge across a wide range of subject areas by engaging with texts of quality and substance.
There is an intentional balance of literature and informational text throughout the curriculum. Grades 1–4 have a slightly higher percentage of literature, whereas grades 5–8 have a slightly higher percentage of informational text.
Writing
As with reading, a key shift in Pathways2.0 is an emphasis on writing informative and opinion/argument text. This shift reflects the ever-increasing demands on students' ability to be effective writers. In the twenty-first century, students are expected to do the following:
1. Construct effective arguments.
2. Convey intricate or multifaceted information.
3. Refine and share knowledge through writing.
4. Attend to the demands of audience task and purpose.
5. Apply knowledge of vocabulary and syntax.
6. Use relevant evidence to support opinions.
7. Employ technology thoughtfully to research and enhance writing.
Program Components
Integrated use of the components of Pathways2.0 provides teachers with resources to deliver literacy instruction with fidelity.
TEACHER COMPONENTS
Teacher Manual
The Teacher Manual begins with the curriculum's language arts philosophy. It continues with information for successful integration of curriculum, assessment, and instruction. It also adds information on working with diverse learners and the home–school partnership. An appendix provides many resources teachers may utilize.
Daily Lesson Guide (DLG)
A Daily Lesson Guide is provided for each of the nine themes. It contains a day-to-day plan for instruction and assessments for teaching each component of the literacy blocks (Word Study, Reading Workshop, Writing Workshop).
Word Study includes vocabulary, phonemic awareness, phonics, and spelling instruction.
Reading Workshop includes whole-group and small-group instruction as well as time for independent reading.
Writing Workshop includes writing and grammar mini-lessons as well as time for independent writing.
The Random House Book of Poetry for Children: A Treasury of 572 Poems for Today's Child. This book of poetry is used throughout the program.
Basic Reading Inventory: Pre-primer through Grade 12 and Early Literacy Assessments, Ninth Edition: This resource by Jerry L. Johns contains informal assessment tools for examining a variety of reading behaviors. This resource is recommended for Individual Reading Inventory assessment.
STUDENT COMPONENTS
Anchor Texts
An Anchor Text is featured in each of the nine grade level thematic unit, with selections chosen for text complexity based on Lexile levels and qualitative features. Consideration has been given to the following criteria: global issues, diversity, developmental appropriateness, content knowledge, rich and varied vocabulary, fitting illustrations, and quality writing
Paired Texts
Paired Texts complement Anchor Texts by providing varied text types in each thematic unit. This allows students to compare different text types, build knowledge, integrate information, and draw conclusions. Some examples of Paired Texts are magazine articles, speeches, poems, diaries, letters, and short stories.
Writer's Handbook
Both teachers and students will use the Writer's Handbook for mini-lessons and as a reference for language, writing, conventions, and other skills. There are handbooks for grades 1 and 2, grades 3 and 4, and grades 5–8.
If you are looking for the perfect faith-based reading program don't hesitate to reach out to our team with any questions you have regarding the product or how we can better serve your classroom.
Source:
Blauman, Leslie, with Jim Burke.The Common Core Companion: The Standards Decoded; What They Say, What They Mean, How to Teach Them, Grades 3–5.Thousand Oaks, CA: Corwin, 2014.
Hess, Karen."Cognitive Rigor in Today's Classroom: Using a Cognitive Rigor Matrix to Enhance Complexity of Thoughts" Mentoring Minds (blog), December 10, 2016.Accessed August 29, 2018.https://www.mentoringminds.com/learn/blog/an-essential-tool-to-plan-thinking-centered-instruction/.