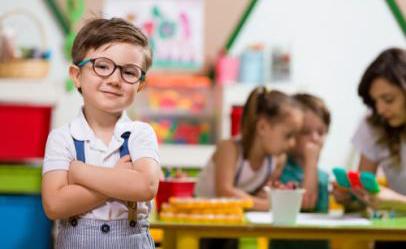 By: Kendall Hunt RPD with contributions from the editorial team of Kindergarten Stepping Stones

Every year, Merriam-Webster Dictionary selects a "word of the year," based on searches of its online dictionary as well as the general political and cultural climate of that year. Recent selections have included they as a singular nonbinary pronoun in 2019, justice in 2018, and feminism in 2017.
Although Merriam-Webster won't announce its word of 2020 for several more months, we'd like to submit one for consideration: flexibility. In every industry, from business to entertainment to education, flexibility has been a necessity this year as we've transitioned to remote learning and working.
As students return to classrooms this fall, flexibility will be more important than ever to ensure that they receive consistent, quality education, and it's especially critical for the newest, youngest students to build a firm foundation for their formative educational years.
Kindergarten teachers desperately need flexible curricula that allow them to adapt to ever-changing circumstances amid COVID-19. Here are three reasons why you need a flexible kindergarten curriculum in 2020 … and how our customized Kindergarten Stepping Stones program meets that demand.
1. For the parts of your day that just can't be the same
Some aspects of a kindergarten curriculum, especially activities that rely on collaborative learning, shared spaces, and touch, simply may not be feasible this year. Activities that are staples of your curriculum may have to be altered or scrapped altogether for the safety of the teacher and students.
However, you still want to ensure that your young charges are getting the content they need, so if you have to remove one activity, you'll want to find another to deliver that content. And if (as is likely) you don't have the time or resources to track down supplementary curricular materials, Kindergarten Stepping Stones is the curriculum for you!
"There are tons of activities for each theme to choose from," writes Heidi Ciravola of the Starts at Eight blog. "You can pick and choose based on how much time you have, how many children you are working with, what resources you have available, and what you think will best suit your needs."
With the curricular flexibility of Kindergarten Stepping Stones, you won't need to do additional searching to supplement the activities that need to be changed this year as a result of COVID-19.
2. For the last-minute changes
As much as educators hope to avoid it, it's a real possibility that schools may have to transition to distance learning again at some point this year. If that happens, kindergarten teachers need a flexible curriculum that students can easily complete at home, and Kindergarten Stepping Stones delivers!
"Most of the activities for our unit were done with things we already had around the house or didn't need anything for," said home educator Lara Molettiere.
Amy of Amy's Wandering blog agreed, stating that the activities in Kindergarten Stepping Stones "are easily done at home with supplies you typically have on hand."
Not only does our customized curriculum use accessible materials, but it's also "unbelievably low-prep," with "everything planned out," according to other home educators who have reviewed Kindergarten Stepping Stones. Its easy implementation allows kindergartners to transition to new educational environments smoothly if needed, making this a flexible option in a time when flexibility is vital!
3. For your own peace of mind in the face of uncertainty
As COVID-19 cases continue to climb and public health policies change, it's difficult for teachers and schools to make curricular plans for the next month, let alone the next year. Staring down a year's worth of curriculum can seem overwhelming; perhaps you don't want to be locked into a yearlong curriculum when so much of how this school year will look is still up in the air.
Educators with these worries will be relieved to know that Kindergarten Stepping Stones is available for purchase on a unit-by-unit basis.
"One of the things I love about this curriculum is that you can purchase each themed unit separately," Heidi notes. "This makes it even more flexible because if you want to spread them out longer, or you just don't have the time to cover them all, or maybe you are not interested in all the themes, purchasing separately offers you the freedom to pick and choose!"
That freedom has always been important for educators looking to tailor their curricula to their students' needs, but it takes on a new degree of importance in COVID-19 times. Our customized curriculum offers you the flexibility you need so that if things abruptly change, you can more easily roll with the punches.
Visit our website to learn more about Kindergarten Stepping Stones today!