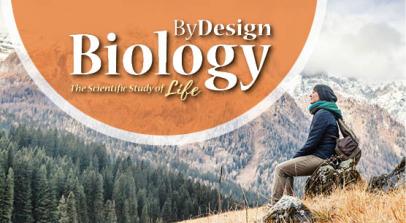 By: Kendall Hunt RPD with contributions from the writing team of ByDesign Biology

Eighteen years ago, when Larry Blackmer became vice president of the Seventh-day Adventist (SDA) North American Division (NAD) Office of Education, he immediately realized the importance of a Christian-based science curriculum.
"I could not in good conscience put an evolutionary, anti-Christian textbook on an Adventist kitchen table when the students took their books home," Blackmer said.
Spurred by his determination to give Adventist students—and all Christian students—a science curriculum designed for their needs, the NAD partnered with the Kendall Hunt Religious Publishing Division (RPD) to create the successful ByDesign Science textbook series for grades 1–8. With beautiful textbooks, a rigorous curriculum, and strong faith-based information, the series has served Christian educators well for years. ByDesign Science continues to provide a much-needed option for parents and educators seeking a science series that aligns with their school's key beliefs and doesn't need modifications for the faith-based educational setting.
Seeing the success of ByDesign Science inspired Blackmer to push the program beyond the elementary level.
"It was obvious to me that we needed the next step: a high school biology program," he said.
And now, after years of hard work in collaboration with the custom publishing experts at Kendall Hunt RPD, ByDesign Biology is rolling out into high school classrooms this fall. It's a rigorous textbook, Blackmer said: more than 700 pages of quality, research-backed scientific information written and developed by the Kendall Hunt RPD team and contributing writers who are mostly PhDs in their fields. Blackmer, who served as the project's executive editor, is proud of that rigor, but he's also proud of how ByDesign Biology provides honest information on two worldviews that are often at odds: biblical creationism and evolution-based Darwinism.
"For Christian students going into higher education, particularly in secular higher education, they're going to be inundated with evolution as fact," Blackmer said. "This textbook will allow them a worldview that is based on biblical principles and helps them to understand the evolutionary worldview that they're going to encounter."
The key to ByDesign Science's approach, and what Blackmer considers its most valuable asset, is its ability to introduce students to the core tenets of both creationism and evolution in a balanced, unbiased way. By doing so, he says, the curriculum fills a niche in the Christian educational market.
"I don't think there's really a quality balanced textbook right now on the market that's creation based," Blackmer said. "Most of the [Christian science] texts that are out there are anti-evolution. They speak pejoratively against evolutionists and do not present for the student the full picture of what they believe. This is a revolutionary and timely textbook that […] explores not only the flaws in the evolutionary worldview, but also the challenges of the creation worldview, so that when students […] go on to higher education and hear pure evolutionary thought, they have an idea of what some of the challenges are with that."
Although the road to ByDesign Biology's development has been long, and Blackmer has since retired from his position as vice president, he's still justly proud of the work that he, his colleagues, and the entire Kendall Hunt RPD team have done to make the curriculum a reality.
"I am really proud of this curriculum," Blackmer said. "I'm proud to place this as a resource on anybody's table."